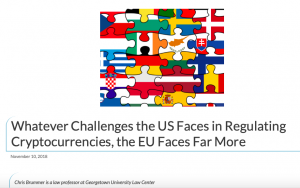 I've done a piece revamping my analysis on Mifid for purposes of crypto-regulation on fintechpolicy.org.  Here are a couple of excerpts:
Article 4.1 of MiFID contains the definition of transferable securities. This definition covers those classes of securities which are negotiable on the capital market (except instruments of payment), such as: 
Shares in companies and other securities equivalent to shares in companies, partnerships or other entities, and depositary receipts in respect of shares.
Bonds or other forms of securitised debt, including depositary receipts in respect of such securities.
Any other securities giving the right to acquire or sell any such transferable securities or giving rise to a cash settlement determined by reference to transferable securities, currencies, interest rates or yields, commodities or other indices or measures.
Mifid thus indicates that "transferable securities" are "securities" negotiable on capital markets.  Well then, what's a security?  Answer:  there is no answer. Unlike the US, there is no (however ad hoc it may be) EU version of the Howey test.  Instead, civil law predilections tend to define these kinds of things ex ante, creating a presumption in many quarters that cryptocurrencies lie outside the scope of Mifid, at least as it's been written thus far, unless national authorities interpret Mifid in such a way that it does.