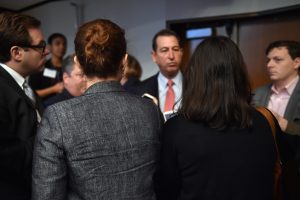 Washington, DC, June 26, 2019 — Fintech Week is a unique, global policy forum where thought-leaders can discover, seriously discuss and debate rapidly evolving changes to the financial ecosystem that drive policy and regulation — and what they mean to markets and investors. This year, Fintech Week will be supported by the Institute of International Economic Law at Georgetown University Law Center, the UK's Financial Conduct Authority (FCA), FiscalNote, the Democratic Republic of Italy, Davis Polk LLP and the Institute for Financial Markets (IFM). In recognition of DC. Fintech Week, the US Commodity Futures Trading Commission will hold Fintech Forward, its annual fintech event — to round out a robust week of discovery and debate.
Fintech Week will be held October 21-24, 2019 and will occur at different locations through Washington. Throughout the week, attendees will learn from some of the world's leading legal experts, economists, innovators and academics discuss and debate fintech-related concerns and the impact innovation may have on global markets, policy and ultimately regulations.  Fireside chats and keynotes from top-level executives at US, UK and other international regulatory agencies will enhance the program.  Event participants also will have meaningful networking opportunities to exchange information and to continue the dialogue after the conference and throughout the year.
 While there are many other events aimed at the Fintech audience, DC Fintech Week stands apart in bringing together so many of the of the most senior regulatory chiefs, and an audience of innovators and disruptors.  Attendance at DC Fintech is provided free of charge.  Our aim is to elevate the public's understanding, and discourse, by democratizing access to the the ideas and thoughts driving industry and policymakers.