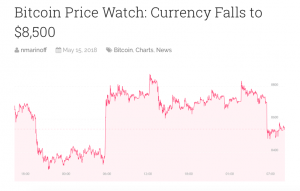 According to recent reports, and see accompanying graph above, Bitcoin is trading for just over $8,500– a near $300 drop from yesterday's price of $8,800.
The performance appears to refute recent suggestions that the cryptocurrency always surges during the annual Consensus week conference in New York.  As one analyst noted:
In 2015, bitcoin prices increased by 23 percent during the conference and continued on a 121 percent rally in the two months that followed. About 500 people attended the 2015 gathering, which took place on September 10.
The following year, the attendance tripled to 1,500. Bitcoin prices increased by 10 percent during the Consensus week and 78 percent in the following two months. Then in 2017, attendance doubled. At the same time, Bitcoin price spiked by 69 percent at the time and 138 percent in the following two months.
It appears thus far that, well, the data are incomplete.   (A common limitation for cryptocurrency trading models.)