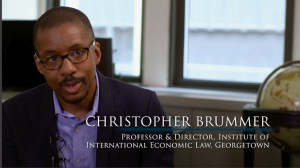 This month I'll be appearing in the PBS broadcast Great Decisions in Foreign Policy, an eight-part documentary series on PBS that explores the great strategic challenges facing the United States today.  This season's third episode "China: The New Silk Road" features a range of experts including former CIA Director John Brennan, Senator Chris Coons, and General Michael Hayden, among others—discussing how and when the United States should engage China's rise to superpower status.
China's "silk road" initiative, whose name harkens back to an ancient network of trade routes predating Europe's middle ages, involves an unprecedented $900 billion plan to supercharge trade channels between China and its neighbors in the west.  Experts predict that nearly sixty five percent of the world's population and a third of global GDP could be impacted by the program—ushering in what Chinese officials claim will be a "new era of globalization" throughout Central Asia, the Middle East and Europe.  Still, many countries have been cautious, with the United States in particular taking a skeptical stance towards not only China's international engagement, but also deeper economic ties in the Asia Pacific region more generally.
The documentary, which addresses the rise of China's economic prominence, as well as its massive One Belt One Road Initiative, will air nationally over the next month on the country's PBS stations.